Looking for a new fun Christmas tradition? Elf on the Shelf is the way to go. A loveable rogue of sorts, the Elf on the Shelf has been sent from the North Pole to keep an eye on who has been naughty and who has been nice.
The rules?
The Elf can't move during the day and the children (or older participants) can't touch it or else the magic will be lost. Whoever is setting up the Elf on the Shelf moves it around during the night – the more mischievous, bizarre or funny the position, the better!
Whether you're trying to bring Christmas spirit to the office, family home or university halls, Elf on the Shelf is a great way to get a giggle out of those close to you.
Not sure where to get started? Here are our top Elf on the Shelf ideas to help you start a new yearly tradition.
Our List of Elf on The Shelf Ideas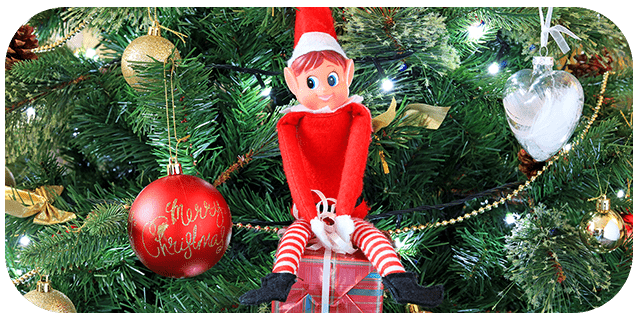 Elf on the Shelf swing
For a super easy but funny Elf on the Shelf idea, have your little buddy keeping watch from the top of a swing. Get an old toilet paper roll, stick some ribbon on either side and then hang it up on the shelf before balancing your elf on top. You may need to use some double-sided sticky tape or light adhesive to help him balance. If you have a little one, why not get them to decorate the swing with stickers or glitter? They're sure to be delighted to see the elf giving it a go when they wake up!
Roasting marshmallows
Create a cute scene using mini marshmallows, cocktail sticks and a candle. Simply sit your elf beside a candle, stick some small marshmallows onto the cocktail stick and put them in his hand as though he was roasting them over the fire (though don't leave the candle lit!). If you have an office mascot or small stuffed animals laying around, get them involved too. This super quick Elf on the Shelf idea is easy to set up but absolutely adorable.
Having a sack race

For this, you'll need some paper lunch bags and extra toys. Create a sack race scene by popping the elf and other toys in individual paper bags, scrunching them up and rolling over the tops to make them appear more like a sack. Position them so they look like they're having a race – will the elf be in the lead? You could also make a finish line with some twine and flags stuck onto toothpicks.


Photo prank

The Elf on the Shelf is a mischievous character, so let him get up to some trouble by drawing on some photos! Draw moustaches, glasses, eyebrows and the like onto company portraits or family photos, making sure the elf is sat close by with a (non-permanent) marker in hand to show who the culprit is. This is a great elf on the shelf idea for offices and family homes alike. Just make sure the marker can wipe off plastic or glass photo frames and don't draw on the photos directly – unless you want the elf's art to be permanent, of course.


Games Night

Another simple elf on the shelf idea is to plan a games night scene. Simply set up a board game, grab some other toys and set them all down around it as if they're playing alongside the elf. Make sure to make it look like they were in the midst of playing.


Spa Day

Even the mischievous elf needs a moment of self-care. You could go all out and get a toy bath, filling it with mini marshmallows, popping a DIY shower cap on his head and making a face mask for him out of shampoo or toothpaste. Alternatively, do the same but put him in the main bathroom instead of buying a toy bath – a great last-minute Elf on the Shelf idea.


Midnight snack

If you have a biscuit tin or snack jar, put the elf in headfirst to make it seem as though they've been caught chowing down on treats. Whether you're in the office or home, this easy elf on the shelf idea is perfect for those who may have left their planning until the last minute.


Hide the ornament

Fun but easy, write a note saying that the elf has hidden some Christmas ornaments around the house or office and it's up to the reader to find them. You could turn this into a scavenger hunt if you have time, hiding prizes with clues, or just hide ornaments – whoever finds the most wins a prize.
Sledging

Set up a sledging scene down the banister with some card, an empty toilet roll holder and some twine. Simply glue the toilet roll holder at the top of a rectangular piece of card – this will be the front of the sledge – and attach twine to either side of the holder, putting it into the elf's hands as he sits on the sledge to look as though he's taking it for a ride. You can then stick it to the banister or any other sloping surface. You could paint the card and toilet roll holder if you have time, too.


Snowball fight scene

Create a cute, fun snowball fight scene between the elf and your little one's favourite toy. All you need is some rolled up white paper to fashion elf-sized snowballs – although you could go all out by sprinkling some flour or icing sugar and building walls for them to hide behind out of Lego. This simple Elf on the Shelf idea makes for a great Instagram photo, too!