Create DIY jewellery and glasses holders with toilet rolls
We all love nature – and want to keep it green and happy for as long as we can. Which is why using sustainable brands and recycling packaging wherever possible is on everyone's agenda these days.
There are numerous ways to upcycle used toilet roll tubes to create handy household items such as a DIY jewellery holder or a DIY glasses case.
Upcycling prevents waste and results in beautiful and unique items in the home that are as decorative as they are practical. Even better, they cost almost nothing!
Don't forget to tag us in all your wonderful creations on Instagram to show off your toilet paper roll crafts @andrexuk and for even more great parenting advice and tips from us, visit the Andrex Parenting hub.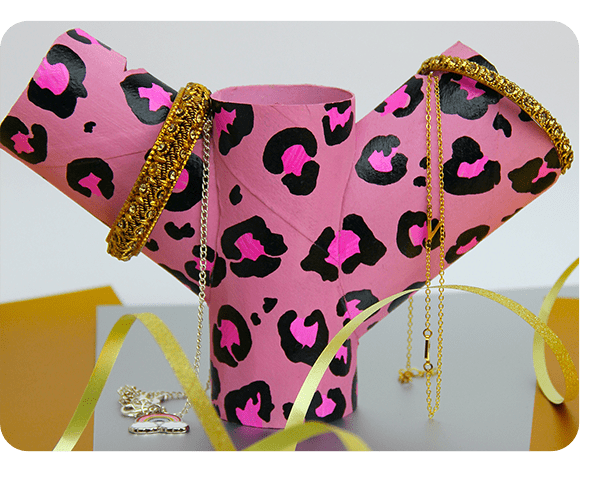 Using toilet rolls to store your jewellery
You can also make a jewellery holder with household items that will be ideal for hanging bracelets, bangles and necklaces. All you need are a few everyday items and a little imagination.

To make a DIY jewellery stand, you will need:
• One toilet roll tube
• One kitchen roll tube (or part of a wrapping paper tube, or two toilet roll tubes slotted together)
• Scissors
• Hot glue gun
• Pencil
• An old CD (or more cardboard)
• Paint, pens, varnish, glitter, fabric scraps and other items for decorating

Then follow our simple step-by-step guide:
1. Mark off two points on the end of the toilet roll that are on the diameter – use your pencil to find the mid-point.
2. Place the circular end of the kitchen roll over the toilet roll and use the pencil to draw around the contour. Ideally you want two semi-circles directly opposite one another that do not quite meet in the middle.
3. Cut out the semi-circles and glue the kitchen roll cross-wise into the gaps to make a T-shape.

4. Glue the bottom edge of the toilet roll to the old CD to form a sturdy base.

5. Decorate the T-shaped DIY jewellery holder using leftover scraps of material, paints, glitter, pens and anything else you have lying around. Get creative with your designs and let your imagination run wild.

6. If you have lots of jewellery, you can always add a second tier by repeating the first three steps and cutting semi-circles out of both ends of the toilet roll so it will attach to the top of the first tier.

For earrings, rings and other smaller items of jewellery, you can make a co-ordinating jewellery box from another toilet roll and some spare cardboard.

Simply chop off the top third of the roll and glue circles of card to one end of each piece of the tube to create a box and lid.

Glue another taller cylinder of cardboard inside the box part so the lid will slot on top nicely. You can then decorate this to match your DIY jewellery holder.
DIY glasses case using toilet rolls
Did you know, the average family of four uses approximately eight rolls of toilet paper each week? This results in around 32 cardboard inner tubes every month. Why not repurpose some of these to create handy items, such as an easy DIY glasses case.

You can make a DIY glasses case in just a few minutes, using scraps of leftover material and a couple of toilet roll tubes.

To make a DIY glasses case, you will need:
• One or two toilet roll inner tubes
• Hot glue gun
• Scissors
• Leftover scraps of material
• Ribbon


To make a small glasses case in just 10 minutes, you'll only need one toilet roll tube. If you need a larger case, you may want to push the end of one tube into another and glue together to make it longer.

1. Cut the tube to the desired length, squash slightly to create two creases and use the scissors to open the whole tube down one crease on the long side.

2. Glue your chosen scrap of fabric to the cardboard, covering both inside and out. Fold the ends of the material from the outside to the inside to avoid unsightly seams being visible.

3. Cut a long length of ribbon and hot glue this all the way around the long sides and the bottom of the tube, sealing the case back up again on both sides and across the bottom, leaving the top edge open. Using a hot glue gun will make your DIY glasses case more durable. Remember to hold everything in place until the glue has dried.

4. You can now decorate the outside of your DIY glasses case with more fabric, buttons, flowers and other leftover pieces of material to make it prettier.

This 10-minute glasses case is so quick and easy to make you might want to craft several, so you will always have a case to hand when you need one.